St Andrews Tour
Castle, Cathedral and Palace
St. Andrews, the home of golf, is a must-see destination for any traveler visiting Scotland. Our St Andrews coach tour of this historic town offers visitors the chance to experience its stunning scenery, learn about its rich history and explore some of its most famous attractions. With an experienced guide at your disposal, We will provide you a comprehensive exploration of the area in comfort and style. From viewing the ancient sites that dominate the skyline such as St Andrew's Cathedral to exploring the picturesque beaches dotted around East Neuk, there is something for everyone to enjoy on this unforgettable journey through Scottish culture and heritage.
Additionally, touring St Andrews Scotland is an unforgettable experience, from the rolling green hills to the iconic coastlines, a day tour of this beautiful region provides visitors with both spectacular views and plenty of opportunities to explore. Moreover, our St Andrew's Day Tour is a great opportunity to explore the beautiful city of St Andrews. Named after Scotland's patron saint, this tour will show you its rich history and stunning architecture.
The St Andrews minibus tours are suitable for visitors of all ages and interests. Whether you're a history buff, a nature lover, or simply looking for a relaxing day out, there's something for everyone on these tours.
Explore the historic city of St Andrews on guided coach tours. See breathtaking views and explore historic sites in this one-of-a-kind journey. Call us on 07999161852 or 01875 586 558 or fill out our online form. Book now for an unforgettable journey!
Experience the breathtaking beauty of Scotland with SixStar Coach Tours, the leading minibus tour company in Scotland offering unparalleled luxury and top-notch service.
Enjoy a full-day tour to St Andrews, Anstruther and Falkland. From the moment you step on board our coach, we will provide you with a plethora off local knowledge and hidden gems, guaranteeing ample
opportunities to stop off and discover the stunning destinations for yourself.
We start our journey with a stop at the iconic Three Bridges viewpoint, where you can take photos and admire the panoramic views across the Firth of Forth.
Then, you will visit the beautiful traditional fishing village of Anstruther. Bask in the sea air while walking the cobbled streets from seafront to harbour, and of course indulging in the award-winning fish and chips.
The next stop is the stunning seaside town of St Andrews, Beckoned by a beautiful coastline and rich architecture, the town is saturated with history and heritage.
There's plenty to discover, from the castle to the cathedral to the parade of shops, pubs and cafes. Before we begin our journey home, we move on to the extraordinarily picturesque village of Falkland. Nestled amongst the Scottish Highlands, Scotland's first conservation village boasts remarkable views with the stunning restored Renaissance Palace and Gardens and the Victorian Gothic Bruce Fountain, as featured in Outlander.
Call us today to book your St Andrews minibus tours and experience everything that this amazing town has to offer. Our expert guides will provide you with an unforgettable journey through St Andrews' fascinating past and present, revealing hidden gems that only locals know about.
THIS ACTION-PACKED TOUR IS A MUST-DO FOR ANY VISIT TO SCOTLAND.
Pick Up Direct From Your Accommodation
Time: TBC
View point
15 mins stop
Three Bridges
Approx 1 hour stop
Anstruther- explore and enjoy a refreshment
Approx 3 hours stop
St Andrews – where you are free to explore, visit the Castle, cathedral,
aquarium, have a leisurely lunch + drink and enjoy this wonderful town.
The choice is yours.
Approx 1 hour stop
Falkland- explore, visit the Palace and gardens and enjoy a refreshment.
Drop Off Direct To Your Accommodation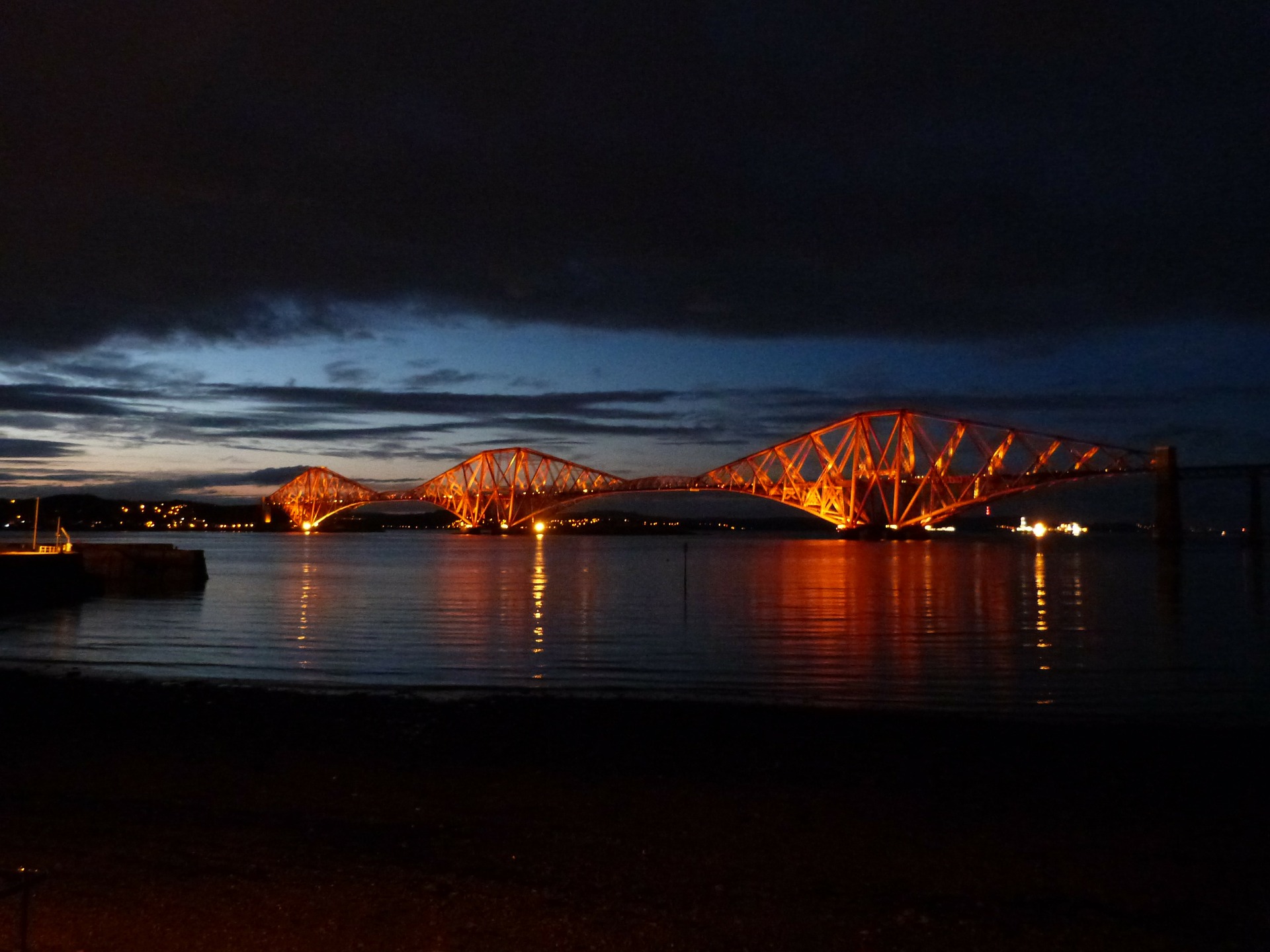 The Three Bridges, crossing the Firth of Forth, are an impressive sight. Standing shoulder to shoulder across the water. The first built of the three in 1890 is the iconic Rail Bridge, known around the world as a wonderful feat of engineering. With its Cantalever design, it's 100 meter high of Scotland to the Kingdom of Fife and beyond.
The Forth Road Bridge was the second bridge to be built and was opened in 1964 by her Majesty The Queen. It was the longest span suspension bridge outside of America and is now the 4th longest in the world.
What's more, there's a main span of 1006 meters between its two towers. A truly magnificent sight. The Queensferry Crossing which opened in 2017 is the latest of The Three Bridges but certainly no less impressive than it's neighbours.
It is a three-tower cable stayed structure spanning 2.7KM making it the longest and largest of its kind in the world. It has a slender beauty and strength, truly deserving of the paraphrase – A Bridge To The Future.
Anstruther is a charming fishing village in the East Neuk of Fife. Known to locals as Ainster. This very pretty village is the perfect place to go for a stroll along the harbour or sit and watch the boats come and go. The harbour itself is a working harbour and very picturesque, so have your cameras to hand.
The main road on the harbour is lined with cafes, restaurants and pubs and not forgetting the famous award winning fish and chip shop, where Prince William and Kate enjoy visiting when in Scotland. There is also a Scottish fisheries museum if you wish to visit.
www.scotfishmuseum.org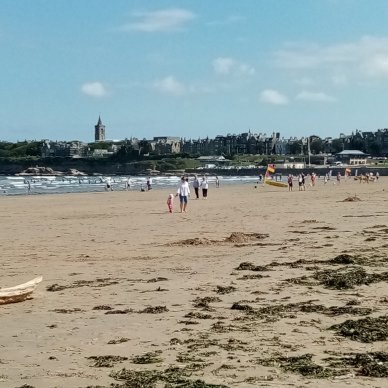 This medieval town is steeped in history and it is home to Scotland's oldest university where the Duke and Duchess of Cambridge met. It also has an ancient Cathedral and Castle where you can explore and learn about their history. Also known to many as having several golf courses but in particular the Old Course with the landmark Swilcan Bridge on the18th hole, where Tiger Woods and many other famous golfers have stood. It has a stunning beach which is definitely worth a visit and near the beach nestled on St Andrews dramatic north facing cliffs is the aquarium, with penguins, meerkats, sharks and a large array of sea creatures. The town's lay out has three main parallel streets, North St, South St and Sandwich Market St with many interconnecting streets along the way. Each filled with an array of shops, pubs, restaurants, cafes and ice-cream shops. It also has an amazing little crystal shop for those interested in holistic therapy. This is definitely a must see town to add to your bucket list.
Falkland is a picturesque town in Fife.
The village high street has a tranquil feel about it and is dominated by the Palace towers, Church and the Bruce Fountain. All the cottages, pubs and cafes have wonderful flower baskets and all the amazing colours just add to the feel of this charming village.
Fans of Outlander will recognise it as post-war Inverness, where the Bruce Fountain plays a vital role as it is where Claire sees Jamie Fraser's ghost. Also situated in the high st is the beautiful Falkland Palace and gardens a 16th century residence of the Stuart Monarchs.
It was the favourite retreat for Mary Queen of Scots as it provided an escape from political and religious turmoil.
In addition, it has the oldest tennis court in use, anywhere in the world.
Suitable clothing and shoes as weather not guaranteed!

Camera

Cash & Card (Castle entry, Palace entry and aquarium)

Sunglasses in case the sun is shining
A Friendly and knowledgeable driver/guide

Bottled water

Complimentary nip of whisky

Shortbread

Air conditioned minibus with panoramic views

Lots of fun
Meals

Gratuities

Hotel pick up and drop off

Castle (optional)

Palace and gardens (optional)

Aquarium (optional)
We do not allow hot food on the coach but please feel free to bring a cold packed lunch with you.

Not suitable for wheelchairs or children under five

Email…….

[email protected]

Phone….07999161852