Why have ★ ★ ★ ★ ★
when you deserve
Six

Star Coach Tours
Our Vision
From the moment you enquire with us, you will be met with the vision of our business, to approach our tours with passion, personality and soul, embodying the opposite of the runof-the-mill scripted tours you may find elsewhere.
Six Star Coach Tours is run solely by long-term partners Davie and Julie, and our hearts lie in providing you with a tailored experience that will stay with you for years to come.
We pride ourselves on offering a service that exceeds your expectations when booking a 5- star day tour. We want to make you feel at home in our beautiful country, from our comfortable air-conditioned coaches and breath-taking views to our fantastic guide Davie. We also enjoy meeting you, and like to have fun!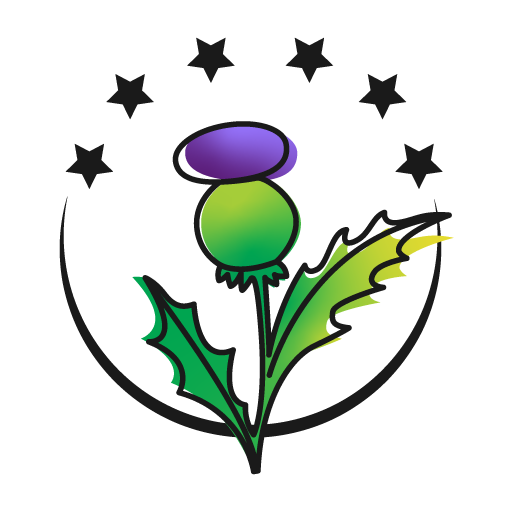 Living his childhood dream of being a coach driver, Davie will be your experienced guide and you will witness our unmistakable Scottish hospitality from the moment you step on board. Famed in our reviews for having a vibrant, fun personality; Davie will give you an authentic Scottish experience; from cracking jokes, a traditional singsong, or learning the national anthem, he will be sure to keep you entertained while you're on the move without compromising valuable knowledge about your surroundings. 'He regals you with good-hearted jokes interwoven with historical stories throughout the trip, enhancing the Scottish scenery.'
Want to see for yourself? Check our TripAdvisor Reviews here.
At the bustling centre of the business, Julie ensures everything runs smoothly for you. From reserving your sport on board, accommodating any special requests (we've had birthdays on board, you name it!) or going above and beyond to ensure those finishing touches and home comforts make you feel special, her dedicated customer service is second to none. By marrying our life experiences, professional backgrounds, values and personalities, we believe our tours stand out from the crowd and provide you with a genuinely sixstar experience.
Simply put, you are important to us
Whether it's the little touches of starting each day with a freshly brewed hot drink of your choice, our buttery melt-in-the-mouth shortbread, or simply going above and beyond to tailor our tours to your needs and requests, we enjoy giving you first-class hospitality. Our guests on-board are more than just guests to us; we keep our groups small and personable and aim to build lasting friendships on board.
We choose our locations with you in mind
As locals, we have extensive knowledge of the areas we visit, and there's no coincidence we build our tours around the most stunning, enthralling locations, especially for you. We undertake our tours as if we're showing long-distance family around our home (the family members you love, of course!), and if you have any special requests, we'll do our very best to take you there.
We are proud of our country
As proud Scots, protecting our stunning landscapes is crucial to us. We reduce our carbon footprint by exclusively using sustainably sourced organic teas and coffee served in biodegradable cups and ask that we all play our part to keep our surroundings unspoiled as we explore throughout the day; so that future generations can enjoy our country as much as we do!
We value connection
At the end of each day, we toast to memories made with new friends with a wee dram of fine Scotch whisky. You truly never know who you will meet on board, and we hope you will bond with our team and your fellow passengers alike; perhaps you will even continue on your journey together, or return for another tour in years to come!
So, what really makes us different?
To quote our most recent review: 'Left as strangers. Returned as friends'